Oil Paints and Pigments and How to Arrange a Palette
Pigments: What are they?
In simplest of terms, a pigment is a colored material ground into a fine powder, which is then suspended in some type of media that acts as a binder to hold the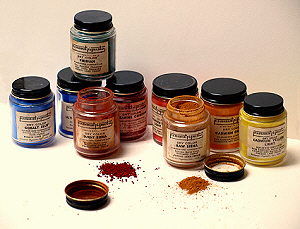 pigment together and giving the resulting paint its adhesion. In oil paints, linseed oil is generally used as the binder, except in lighter colors where poppy oil might be used, since it has less tendency to yellow. Pigments whether natural organic (mineral based), synthetic organic, or inorganic (carbon-based) are what all paints are made of.
Historically, the earliest of pigments were natural minerals, or biologic in nature. (originating from plants, insects) However, in time synthetic pigments were manufactured or modified from naturally occurring materials expanding the range of colors available today.
For the artist there are some important factors to consider regarding pigments when selecting them for use:
Lightfastness: Refers to the permanency of color or length of time a pigment retains its original color without change under the ongoing action of daylight. Colors with a low lightfastness rating are considered fugitive in that they do not retain their color over time.
Stability: The color must not break down with age, or react chemically in a negative way with other colors or even the atmosphere.
Quality: A good paint should consist of more pigment and highly refined oil such as linseed, without the addition of fillers which are used to extend the volume of paint such as used in student grade paints. Colors with high pigment saturation, last longer, are more vibrant and simply perform better.
Common Oil Paints and their Descriptions
Palette Arrangement
Titanium White

Made from titanium dioxide, this inorganic pigment has a high tinting strength and very good covering power and is considered permanent for artistic purposes. Most colors labeled as titanium also has zinc white added to preserve it's whiteness and enhance its mixing qualities.

Cadmium Pigments Including Yellows, Orange and Reds

This group of inorganic colors have a commonality in that they all have cadmium as a component in their chemical make up. The main pigments in this family of colors are cadmium sulphides and sulfoselenides. Cadmium Yellow(cadmium sulfide) when mixed with selenium becomes increasingly redder as more selenium is mixed producing a range of color from orange to a deep red. These brightly colored oil paints have good permanency and tinting strength. In some paints these pigments are mixed with barium(barite) which acts as a filler in cheaper paint and should be avoided.

Permanent Rose or Quinacridone Rose

Quinacridone pigments are unique and beautiful colors which have the characteristics of excellent lightfastness, vibrant tones, good tinting properties and transparency. Permanent Rose can be considered a primary red as it's neither too yellow or blue and makes excellent violets when mixed with blue.

Alizarin Permanent

Originally Alizarin Crimson, an organic lake pigment was derived from the roots of the madder plant and did not have a good lightfastness. Alizarins of today are made more lightfast by using quinacridone pigments. It's a transparent rich dark red with a slight purplish brown undertone.

Ultramarine Deep

Genuine Ultramarine an inorganic pigment was made from a semi-precious stone called lapis lazuli. It is still made but it is a costly pigment. Other colors having the name ultramarine such as French Ultramarine, Ultramarine Light or Deep is a complex polysulphide of sodium alumino-silicate. It's a beautiful blue which tends fractionally towards red. It's transparent with an average to good tinting strength and versatile in mixtures.

Phthalocyanine Blue and Green

The phthalo pigments are organic and derived from copper salts. The blue is a very strong dark color with a greenish undertone. When mixed with white it becomes a turquoise like blue similar to Cerulean Blue. Cerulean Blue Hue is based off this color. The green is a very deep emerald green and when lightened with white is very similar to Viridian Green. These colors are permanent, transparent and have a high degree of tinting strength. A little goes a long way in mixtures.

Raw Sienna, Burnt Sienna, Yellow Ochre, and Burnt Umber

These inorganic colors are natural earth pigments derived from limonite clay containing ferric oxides. Synthetic versions of these pigments are also available on the market today. They are permanent and are useful in many oil painting applications.

Transparent Oxide Red

This variation on the iron oxide manufacturing process produces a beautiful semi-transparent color similar to Burnt Sienna, but with a more luminous quality.

Ivory Black

This and many other blacks are carbon based from various organic and mineral sources. This is sometimes considered an all-purpose black for mixing grays and with other colors and is semi-transparent.

Mars Black or Oxide Black

This is an inorganic synthetic iron oxide, opaque in nature with a warm undertone. It's considered non-toxic, and is safe for underpainting as it dries to a relatively hard and flexible film. Though not as black in appearance as Ivory Black, it has nearly triple the tinting strength.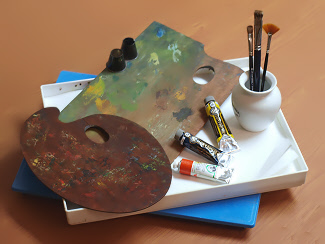 The type of palette you choose is a personal decision. There are hand-held types with a thumb hole for cradling the palette and table top varieties. They can be oval, square, made of wood, plastic, glass or disposable paper palettes. I've used glass (which ended up breaking) and wood palettes, but I prefer using a 12"x16" disposable white paper palette placed into a Masterson Palette Seal (view the suggested art supply list) which helps keep paint fresh between painting sessions. I simply do not like having to clean and scrape dry paint off a palette. With disposable palettes, you tear off a sheet and you have a clean surface ready to go. Plus I like the white surface. A wood palette whether light or dark or a disposable palette that has a gray tone influences the appearance of the color. This is especially true when working with thin transparent paint as in a glaze. However, other artists prefer the toned palette, saying they can judge their values better on a neutral gray surface. This again is a personal decision.
Although no specific rules exist for arranging colors on your palette the arrangement should make sense so that time is not wasted searching for your colors. The following are some suggestions for organizing your palette.
Colors should be placed on the outer edges, leaving the center area for mixing. One logical way is to group your colors according to its family as though you stretched out the color wheel. Therefore you would group all your yellow colors together, oranges, reds, violets, blues, greens and earth colors etc. Additionally, colors can be separated into warm and cool categories. The following illustrations will visually explain these concepts.