Dalhart Windberg:
A Recollection and Collection of Rare Prints by William Hagerman
Click to view the Windberg Prints for sale!

or scroll downward
I was around 8 years old when I first became aware of famed Texas artist Dalhart Windberg during the mid 1970's. My aunt who was also quite talented and painted as a hobby and my uncle, collected Windberg prints. During a family visit, my aunt was showing my mother their collection and I

wanted to see it too. Even at this young age my interest in art was already quite high. I remember my eyes being glued to the beautiful works as my aunt carefully unveiled each print. The atmospheric qualities and little hidden details so characteristic of his works captivated my attention. That was probably my first real experience in seeing another persons art and I wanted to paint like that I thought to myself.
My aunt must have taken notice of my interest and a couple of years later bought me a starter set of oil paints as a gift. My first attempts at painting were rather clumsy to say the least and I didn't pursue it much until a family friend and artist C. L. Curry began teaching lessons and I wanted to take. Thankfully my parents agreed and at the age of 12 I began attending the weekly 3 hour class. The clumsiness that I first experienced with oil paints soon passed. However, I still had a fondness for the works of Dalhart Windberg and drew inspiration every time I looked at them.
At this same time and while my family was living in Houston, Texas, Dalhart was having a print signing and showing of a few original works. My father took me to see him. I was now 13 years old. I remember standing in a long line waiting for him to autograph my copy of his first biography book "In The Path of the Masters" printed in 1978. While standing in line I couldn't help but over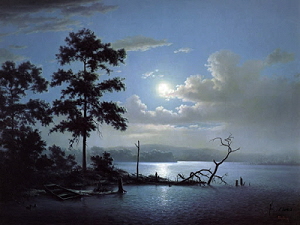 hear the conversation of a couple of people standing in front of me. One gentleman was describing one particular work to the other about a night scene that he liked, but he couldn't remember the title. I spoke up and said: "Nocturnal Harmony." The man turned to look at me with a very surprised look on his face. "That's it" he said in a voice of disbelief. I don't think he expected a skinny little 13 year old to know that. But, I did. I liked that painting too.
Soon I was standing in front of the artist whose work I had first admired several years before. He signed my book and I got to see for the first time some of his original paintings. I thought they were even more beautiful. I would have liked to gotten closer to examine them, but there was still a long line of people waiting to see the artist and have their prints or books autographed.
In 1984 I had another opportunity to meet the artist in Midland, TX. He was having a showing of works at a local bank with artists Mark Pettit and Daryl Trott. I had purchased his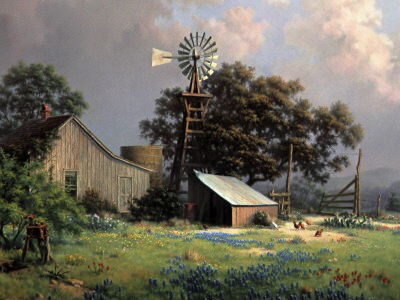 first instruction book on his painting technique and wanted him to sign it. I took my aunt along who also had a copy. This time I got to spend quite a bit of time talking with him and even got to show an example of my painting. It surprised my aunt who had never seen me talk so much as I do seem to be rather reserved and quiet. I guess that's true, but when it comes to talking art, I can chatter with the best of them. The encounter ended with Dalhart giving me his business card with phone number and address and the invitation to contact him.
About a year later, I mailed some photos of recent work to hopefully get a critique or some advice. I waited a while and did a follow up with a phone call to see if he got the photos. He received them, but he told me it was hard to tell much by the photos and was there anyway that I could bring some of my paintings to his home so he could look at them....nope, not a chance, couldn't possibly do that...yea right, I was already packing my bags.
I drove several hundred miles to his home in Austin, TX where he lived at the time. For dinner he took me to a nearby cafe where we ate and talked art. I was shown great hospitality from him and his wife Evelyn. I spent the night in the guest room and the next day was able to watch Dalhart paint in his studio. What a priviledge. He told me something interesting. "I can't teach you to paint. You already know how to do that. But, I can teach you how to get a more professional look to your paints." Thus he shared some of the technical aspects of painting with me.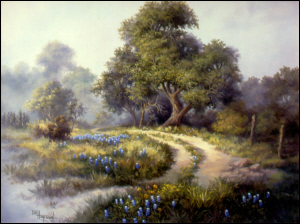 For a considerable time after that I tried to follow his technique. Around 1987 I was invited to spend a day or two in Fredericksberg, TX where Dalhart was teaching a workshop. Again, I accepted the invitation and took along one of my paintings. By this time my work was receiving comments from others that they looked like Windberg's! I guess I reached that goal when I said I wanted to paint like that! I was pleased when Dalhart used my painting shown at the right as an example to some of the other students in his workshop. One of those students later took a few art lessons from me!
But, as time went on I came to appreciate other artists work and styles and as my artistic knowlege about various techniques grew, I now had the desire to find my own look and style. I'm happy to say I feel I have, but still ever grateful to the advice and experience of Dalhart Windberg who became one of several early influences on my art. I give them all my heartfelt thanks.
A Rare Collection of Windberg Prints for Sale
The first memories I have of Windberg's art were viewing prints of his work from the mid 1970's. It's with pleasure, that Hagerman Art is offering a rare opportunity to collect some of Windberg's most valuable prints from this era, many still in their original packaging and in excellent condition! Click on the images for an enlarged view.
---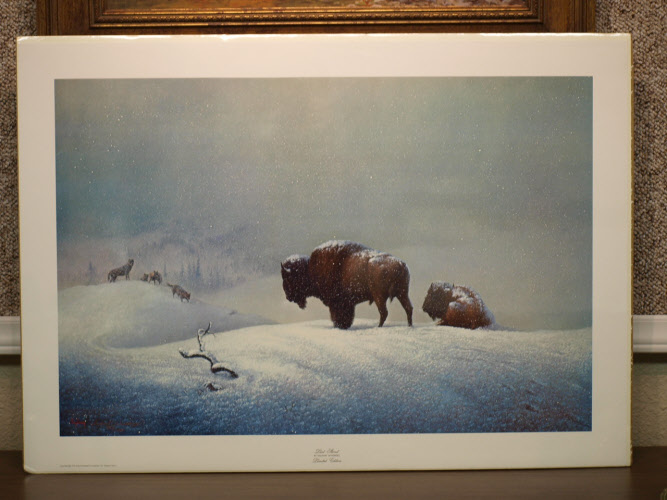 Dalhart Windberg
"Last Stand" Limited Edition 1975 signed 903/1000
Valued at $5500.00 size 20x30
Selling for: $3500.00

This is a very rare find! The print is in it's original packaging, unframed and in amazing condition. Not bad for being 38 years old!
---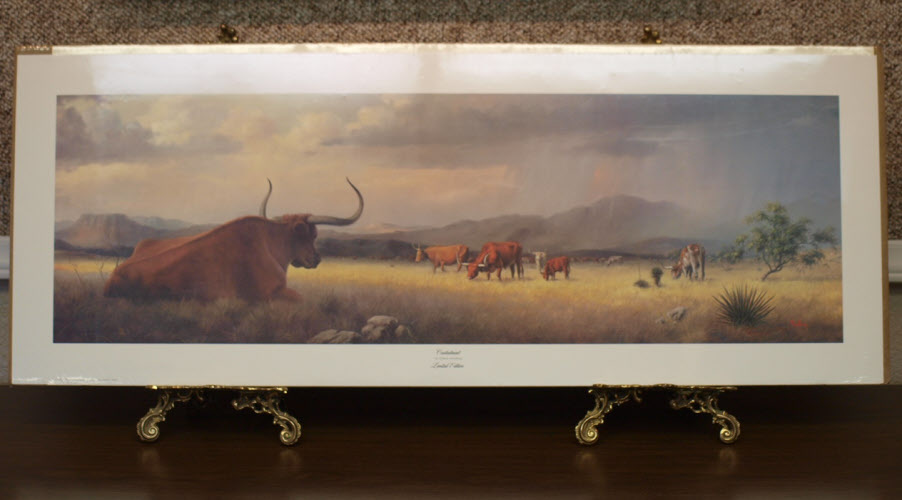 Dalhart Windberg
"Contentment" Limited Edition 1976 signed 903/1000
Valued at $2550.00 size 12x38
Selling for $1900.00
Another rare find from 1976 in great condition!
---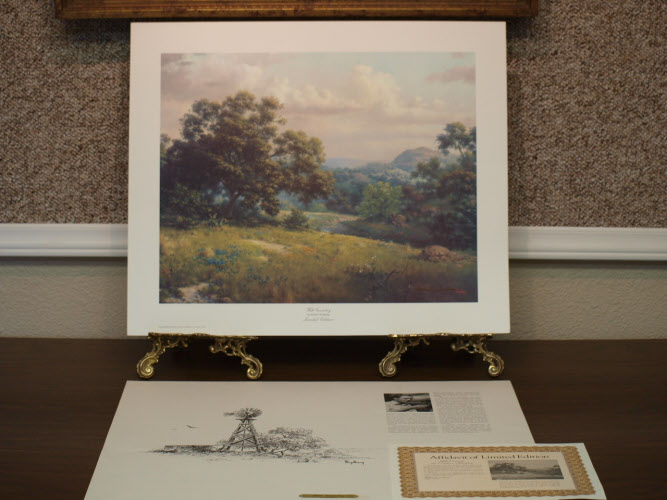 Dalhart Windberg
"Hill Country" Limited Edition 1974 signed only.
Valued at $375.00 size 16x20



A lovely Texas Hill Country scene in spring with bluebonnets from 1974
---
Dalhart Windberg
"Snow Clad Relics" Limited Edition 1976 signed 484/1000
Valued at $1450.00 size 18x24



A favorite snow scene of a farmstead blanketed with heavy snow.
---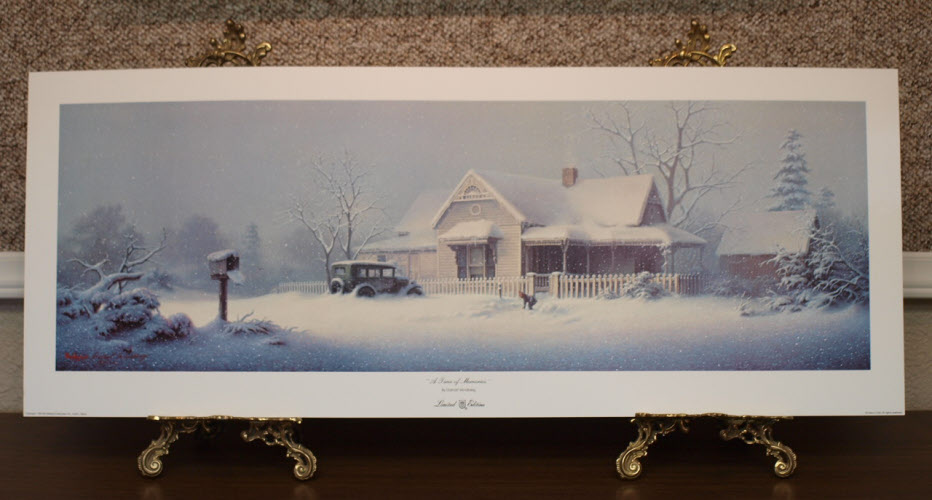 Dalhart Windberg
"A Time of Memories" Limited Edition 1984 signed 484/1000
Valued at $950.00 size 12x36

Another popular snow scene. This one is a little later; from 1984.
---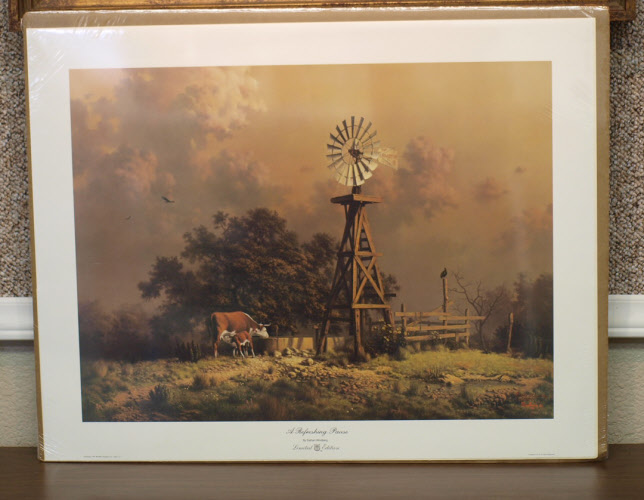 Dalhart Windberg
"A Refreshing Pause" Limited Edition 1982 signed 903/1000
Valued at $900.00 size 18x24




I love the Oak Tree!
---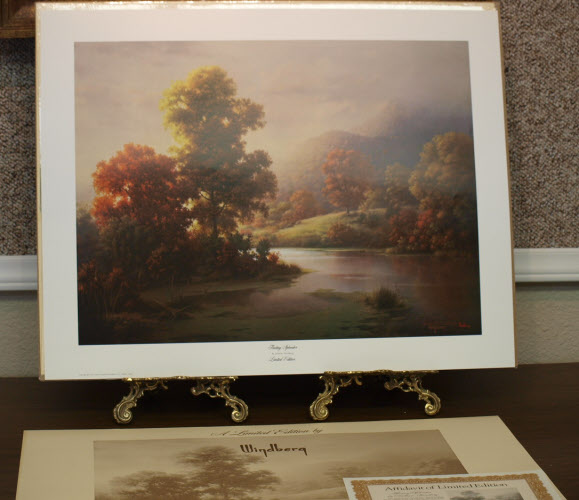 Dalhart Windberg
"Fleeting Splendor" Limited Edition 1976 signed 484/1000
Valued at $275.00 size 18x24
Selling for $225.00 SOLD




I have a signed only version of this print in my home from an estate sale. Unfortunately someone had cut the border off. Keep in mind, that will ruin the value of a print. Still I liked the image. This one had no such problems. It's in great shape and it's signed and numbered!
---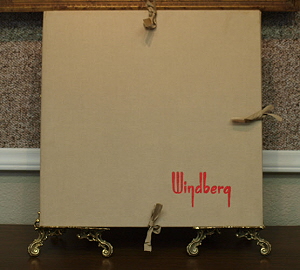 Dalhart Windberg
"Four Faces of America" Limited Edition Portfolio Set of 4 Prints 1975 signed 950/1000
Valued at $845.00 size 16x16
I thought this was a really great set with the portfolio!
---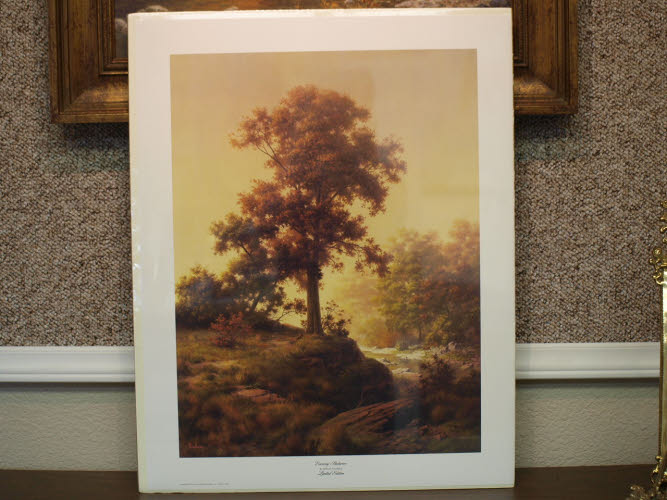 Dalhart Windberg
"Evening Radiance" Limited Edition 1977 signed 903/1000
Valued at $225.00 size 24x18



I always liked the way Windberg painted his trees!
---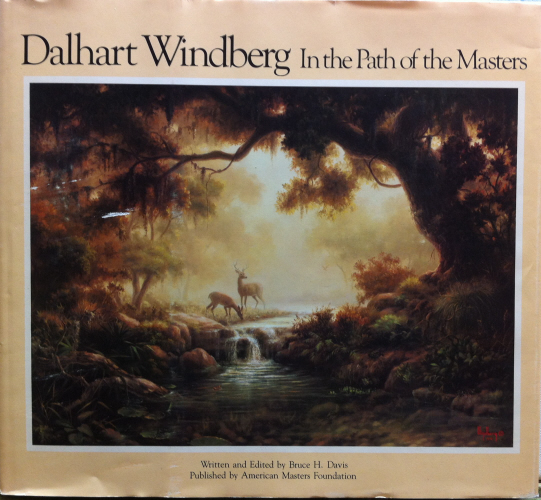 Dalhart Windberg
"In The Path of the Masters" 1978 autobiography. Hardback signed autograph inside.
Unsigned Value at $599.00 at Prints.com





The dust jacket shows some imperfections and wear, otherwise the book edges and inside are very clean.