Commissioning a painting is a unique opportunity for acquiring an original painting either in William's realistic style or in his impressionist style with works signed as Byron. This avenue allows the art buyer to participate in the creative process, resulting in not only a painting made just for you, but a memorable and pleasant experience as well as the following testimonials will show.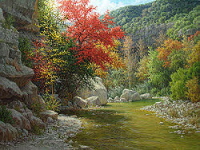 Bright Autumn 36x48 oil by William Hagerman
Commissioned painting for Bill and Nancy Kirk
Featured Testimonial
Art Quote

"A painting or work of art is made when the artist's hand, heart and mind work together in unison."
William Hagerman
My husband, Bill, and I had been admirers of William Hagerman's art for years. When we moved to our current home several years ago, we wanted a really special large piece of art and we contacted William Hagerman to see if he could create one for us.

We knew we wanted one of William's awesome landscapes. William and my husband sat down one afternoon and went through a lot of references, taking this tree from one and that tree from another and adding incredible water and rocks and mountains until it was perfect.

William kept us updated with photos of his progress and each time we thought it can't get any better, he would find some change or addition that would make it even more beautiful! We were so delighted when it was finished and we could hang it in our home, where everyone who sees it is so impressed and can't believe how beautiful it is. Our painting captures the mood of the area and is so peaceful you can gaze at it for hours and feel refreshed, like a mini-vacation.

The light shines through the trees onto the rocky stream of water, which looks so cool and inviting. He has such a way with light and shadows and color and contrast! Soon, we decided we needed more art in the same room, but we couldn't find anything to compare with our masterpiece, so, again, we called on William. And sure enough, we got THREE more of smaller sizes that accompany our large one perfectly. They are also unbelievably awesome. Each instills a peaceful mood and makes you feel like you are right there. We could not be more delighted with them all.

To own a piece of William Hagerman's art is truly a blessing.

Bill & Nancy Kirk
Texas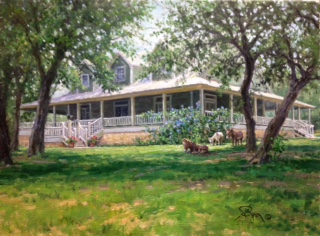 Ranch House Trio 14x18 oil by Byron
Commissioned painting for S. Litts
A 50th Wedding Anniversary Gift
"We are so happy with the painting that William Hagerman did for my parents' 50th anniversary. It was a painting of their ranch house and it turned out beautiful! It was the perfect gift for them and they are so happy to have an amazing artwork of their beloved home hanging on the wall. Not only is the painting perfect, but it was so easy to work with William. Thank you William!
S. Litts
Texas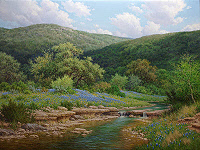 Dreams of Boerne 36x48 oil by William Hagerman
Commissioned painting for B. Phillips
Another Testimonial
"Being raised in the Texas Hill Country I've always had a special place in my heart for paintings that reflect that genre and artists such as Salinas, Wood, Harvey and Slaughter. I've been fortunate enough to have several of these artists in my collection and I can say, without a doubt, the two paintings that I recently commissioned with William are comparable, if not superior, to those works. They both are located in prominent locations in my office and I have the pleasure of looking at them on a daily basis.
B. Phillips
Texas
How to Commission a Painting
So, do you have a favorite location, that's on a ranch or perhaps a National park and wished you had a painting of it? Or, maybe you've seen one of my paintings that has already sold, but would like something similar? If so, the following will give you a couple of options to consider.

Studio Paintings from my own existing landscape references, field studies or photos. For example: You want a Texas Hill Country, Bluebonnet scene with a stream. You select the size of the painting. I design several visuals (pencil sketches, color sketch or photos) with differing compositions for you to choose from. Price is based upon size and will be comparable in price to gallery paintings of the same size. A deposit is placed, minimum 1/2 of the price, remainder upon completion.

Sponsored Painting Trip: When you wish to have a painting from a favorite location this option opens up more exciting possibilities. You get to share a special scene that has meaning for you, but for the me, the artist I get to visit a new area and see the beauty that has inspired you. This involves sponsoring a painting trip to the selected location. After touring the area I begin several color studies (plein air), take photos for additional reference and work up several artistic compositions from which you can choose as basis for the studio painting. You select the size for the studio painting. The cost of sponsoring the painting trip is applied towards the purchase. There are possible limitations depending on my availability and work load.
If either of these options appeal to you, and you would like to take advantage of this unique opportunity, I invite you to contact me. Additional details are worked out and an accompanying contract will be signed. This allows for peace of mind and protection for both, as it serves to clarify each of our responsibilities. Commissions are available for both realistic or impressionist paintings.
To Inquire about a Commission...
PLEASE CLICK HERE TO ACCESS MY CONTACT FORM.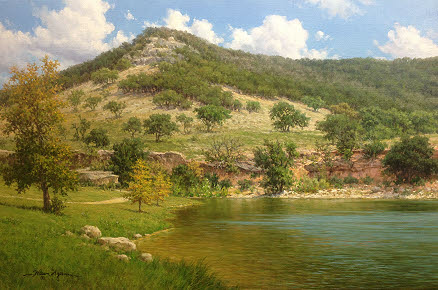 ---
Dedication
Hagerman Art is committed to providing you with exceptional service by keeping you informed of your painting's progress as well as addressing all your questions or concerns.